| | | |
| --- | --- | --- |
| | Michael Hooker Microscopy Facility (MHMF.ORG) | |
C-Imaging - SimplePCI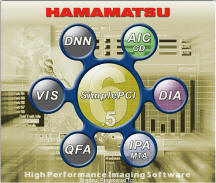 Index
0. Notices
1. Introduction
2. The System - Acquisition / Analysis
3. First Time Use
4. Operatio ns
5. Known Bugs
6. Links
7. 724-935-3600
0. Notices
Latest available version of SimplePCI on analysis workstation will be 6.6. Image acquisition station have older versions of C-Imaging in order to maintain compatibility with specific microscope & imaging hardware. These stations will be slowly updated.
1. Introduction
C-Imaging is the major general purpose image acquisition, processing & analysis program in the facility. It drives digital cameras, analogue cameras, filter wheels, illuminator switchers (e.g. DG4, shutters), and other optical hardware including the spinning disk confocal. It has the multiple functions of acquisition, automatic acquisition, image processing and image analysis.
2. First Time Use
On microscope image acquisition station users logins profiles need to be setup specifically for each user. This is usually done during user training/orientation. Please see facility personnel in order to ensure this has been carried out.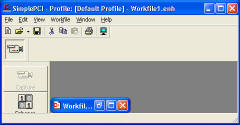 3. Operations
Calibration
Making overlays, annotations and scale bars
4. Known Bugs
On startup two messages crop up stating that the registry can not be updated. These messages can be let to time out or OK can be pressed. There is no consequence to users, except seeing these slightly annoying messages. This happens with domain user logins, and applies to all users at MHMF except administrators.
5. The Systems with C-Imaging
Acquisition

Hooke (DXM 1200 pixel shifting color camera)
Fresnel (OrcaER monochrome camera & MicroPublisher color camera)
Morpheus (DVC 1412 monochrome camera, Intensified DVC 1412, DG4 illuminator filter switcher, Lambda 10-2 filter wheel)
Wheatstone (DVC1312 monochrome camera)
Nipkow (Yokogawa spinning disk confocal)
Shiva (DVC 1312 monochrome camera, DG4)
Euler (DVC IntensicamII)
Gould (OrcaER)

Image processing (off line)

Brewster (dual monitor)
Snell - also Zeiss 510 confocal software
Young (3D & time lapse analysis and processing)
Zernike (waiting for parallel port)
Nomarski
6. Links
C-Imaging web site (Compix)
Support at C-Imaging (Compix) web site
Other image processing software:

Metamorph 7 (Brewster, Snell)
Photoshop 7, CS, CS3 (Fresnel, Hooke, Monarch, Young, Snell, Brewster, Zernike)
Premiere 6.0 (Young)
QuickTimePro 6, 7 (Brewster, Snell, Zernike)
NIH ImageJ (Zernike, Brewster, Snell, Young, Monarch)
VidEdit (Snell, Brewster, Zernike)
7. More Methods:
Gel scanning (best viewed with Internet Explorer 5 or later)
Setup Microscope
Calibrations
Analyze images
---

Copyright 2001-2014 Dr. M. Chua, Program in Molecular Biology & Biotechnology, School of Medicine, University of North Carolina, Chapel Hill, NC 27599

Go Back
Booking Resources

Questions/comments/problems:

Michael Chua

---
| | |
| --- | --- |
| | Last Updated: 2014-07-23 |
---