| | | |
| --- | --- | --- |
| | Michael Hooker Microscopy Facility (MHMF.ORG) | |
Olympus FV1000 MPE SIM Laser Scanning Confocal Microscope
Notices:
Training: All users of this system are required to:

Receive training, or an orientation, on use of the system from Neal or Michael
Only use their own login on accounts
Multiphoton users: Complete the UNC online laser safety training and hopefully the test.
Follow guidelines for running humidity and temperature control in order to avoid scan head lens condensation.

Location is in room 6033 Thurston Bowles. Enter via room 6129
Time lapse/ Multi-area time lapse (MATL) - setting up carefully - Don't leave things inside the box that can impinge the movement of the motorized x-y stage.
FV1000 booking Calendar is here: See Neal or Michael for assistance
Use the correct Immersion Oil - using the wrong one will give bad images and require careful cleaning:

60x Standard immersion oil is in a blue bottle (RI=1.51) - carbon oil only
30x Special silicon oil is in a green bottle (RI=1.43) - silicon oil only
If the wrong oil is applied to an objective please see Michael or Neal about cleaning it (your images will look like bad)

Keep 10x, 20x objectives dry and free of oil. If oil pools on the concave lens front images will look quite cloudy or fuzzy or not crisp
Please contact Michael or Neal about getting started on this system or for a demonstration
Known problems:

Loss of focus control, loss of course/fine switchover, loss of escape function - if possible please let Michael or Neal know immediately so that we can trouble shoot. Focus control can be restored by restarting the software.
Dichroic turret may not position correctly if FV-10 software is not shut down before the hardware boxes (#1 to #8) are shut down. The symptom is bright light at the stage and the light does not correctly correspond to the selected widefield dichroic and the fluorescence shutter cannot be closed. To fix it seems that starting the hardware then starting the software will self correct the problem. Also keep you sample off the stage so that it is not blasted by the intense light.
If heat is not left on long enough after the humidity is shut off then often moisture will condense on the FV1000 scan head projection lens. Next user will see uneven illumination or no clear image of the scanned image or even no scanned image even though laser light can be seem scanning at the stage. It takes 90 minutes for the system to equilibrate!
When enabling humidity heat must be turn on >1 hour (preferably 90 mins) before humidifier is turned on, then humidity must be run at 40% for ~30 minutes (? Is this long enough?) then go to 60% humidity.
Ensure temperature probe inside the back top left of the box is fully inside the box. If not temperature will read low (even though the temperature at the stage may be >42C!) and it will not be possible to control the humidity.
When reloading acquisition from the FV10 Explorer the spectral settings does not reload.

Short Pass Filter (cuts off light longer than 685 nm):

A short pass filter is installed in the system and cuts of light longer than 685 nm to the standard PMT detectors (single photon)
This cut off will affect detection in the far red, e.g. it will be impossible to detect CY7, CY5.5 and even CY5 will be substantially affected.
Facility personnel can remove this filter. This may affect alignment of the system and hence resolution and image alignment of fluorescence and transmitted light images can be degraded.
The System
Laser Spot Scanning Confocal Microscope
Inverted microscope stand (IX81) with widefield DIC (Nomarski) and epi-fluorescence

Widefield (eye ball viewing) fluorescence filters:

U-MWBV2 DAPI lp (& CFP) = ex 400 - 440, dichroic 455nm, em 475 long pass
U-MWIG3 - TxRed/Rhod = ex 530-550 nm, dichrio 570nm, em 575 long pass
U-MNIBA3 - FITC bp = ex 470-495, di 505, em 510-550
FV10-NRDM690 - multiphoton

Visible excitation lasers switched/modulated using an AOTF

UV (violet) 405nm - for e.g. DAPI, Hoechst, Alexa 350, photoactivation
"Duke blue" 440 nm - for e.g. CFP
"Carolina blue" 488 nm - for FITC, Alexa 488, eGFP, CY2, Fluo-4, Calcein, FM 1-43
Green 514 nm - for e.g. YFP
Green 559 nm - for e.g. TexasRed, CY3, Rhodamine, Alexa 568, Alexa 594, FM 4-64
Red 635nm - for e.g. Alexa 633, Alexa 647, CY5, DRAQ5, ToPro-3

Multiphoton excitation laser modulated with an AOM

Ti:Sapphire 690 to 1040 nm - many Alexa dyes, FITC, Rhodamine,
Pre-chirp compensation
Two high sensitivity non-descanned PMT detectors (NDD)

Dichroics for NDD

Descanned detectors
Reflector
IX1

band pass

IX2

band pass

1
Violet/green
v/g
485 nm
420-460 nm
495-540 nm
2
Cyan/yellow
c/y
505
460-500
520-560
3
green/red
g/r
570
495-540
575-630
4
violet/far-red
v/fr
485
420-460
665-735

Dichroic splitters for NDD - green/red, blue/green, violet green
Examples of suitable dyes and 2 photon cross section absorption spectra: DRBIO | Arizona U | Molecular Probes | More dyes |

DAPI
Alexa 488, FITC
Rhodamine, CY3
Alexa 568
Alexa 594
Alexa 633, CY5
eGFP, eCFP, eYFP
dsRed, mCherry, mCitrine, mRFP, TagRFP e.g. see: http://pubs.acs.org/doi/pdf/10.1021/jp8087379
FM 1-43, FM 4-64, DiI
Fura-2
Q-Dots, Ag nano-particles

Simultaneous transmitted light or DIC imaging while scanning confocally (single or two photon)
Three standard Photo Multipliers Tube (PMT) light detectors of which 2 have spectral discriminations
Motorized x-y stage - Can do tiling and also tiling with time lapse
Environmental chamber for controlled temperature, gas and humidity
FRAP/FLIP/FLIM/FRET/PhotoActivation/etc - SIM scanner
True 12 bit acquisition - 4096 pixel grey levels

Objectives:

Objectives
Mag.
NA
type
WD
corrections
cover slip
Immersion
4x
0.16
UPlanSApo
13
#1.5
air
10x
0.40
UPlanSApo
3.1 mm

#1.5

air
20x
0.75
UPlanSApo
550 um

#1.5

air
30x
1.05
UPlanSApo
800 um
corr

0.13-0.19

silicon oil 1
60x
1.42
PlanApo
150 um

#1.5

oil 2
60x
1.00
LUMPlanFl N
2 mm
none
water
Not stored on turret

1 Special silicon oil is in a green bottle (RI=1.43)
2 Standard immersion (carbon) oil is in a blue bottle (RI=1.51)
It is important not to mix oils. (If the wrong oil is used the objective must be carefully cleaned to remove all traces of the wrong oil. You must talk to Michael or Neal for cleaning instructions)
Detection:
Filtering through glass interference filters
Spectral separation through diffraction gratings
Two tunable detection bands (1 - 100 nm band width) with adjustable spectral windows before the three Photo Multiplier Tubes (PMT)
Standard XY scanning with zoom and rotation
Transmitted light and DIC (non confocal)
FRAP, FRET, photoactivation, Emission Spectra, ratio imaging
Two Channel non descanned detectors (NDD) - filters: blue/green, green/red, CFP/YFP, 2nd harmonic generation
Viewing Software:
Using the system:
Enquiries / Reporting Problems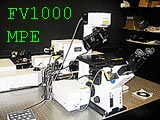 The Olympus FV1000 Multiphoton inverted confocal microscope is located in room 6033. It features an environmental box for temperature, gas and humidity control and light exclusion. An extensive range of conventional (single photon excitation lasers): 405 nm for UV excited dyes, 440 nm for e.g. eCFP, 488 nm for e.g. FITC, 514 nm for e.g. eYFP, 559 nm for e.g. Rhodamine/TexasRed/dsRed/mCherry & 633 nm for e.g. CY5/Alexa633/Draq-5. Motorized x-y stage for tiling or visiting multiple imaging sites. MHMF oversight committee request.
---

Copyright 2001-2014 Dr. M. Chua, Program in Molecular Biology & Biotechnology, School of Medicine, University of North Carolina, Chapel Hill, NC 27599

Go Back
Booking Resources

Questions/comments/problems:

Michael Chua

---
| | |
| --- | --- |
| | Last Updated: 2014-03-18 |
---