| | | |
| --- | --- | --- |
| | Michael Hooker Microscopy Facility (MHMF.ORG) | |

Leica DMIRB Inverted Microscope with Color & B/W Cooled Digital Cameras

Location: 6129 Thurston Bowles
Notices
If you are the last user of the day, especially later in the day, please turn off the mercury arc lamp when you are finished.
Please do not start mercury arc lamp if lamp housing is warm. It must be cool! (In order to avoid damage or explosion the mercury arc lamps must cool for ~30 minutes before being restarted.)
If you plan to use this microscope for more than ~30 minutes at a time please book ahead at the Leica Inverted microscope booking page.
Camera ports:

The left side port transmits 100% or 0% of the light with a magnification of 0.63x to a B/W high sensitivity Photmetrics HQ2 or Hamamatsu Orca ER CCD camera.
The top trinocular port transmits 100% or 50% or 0% of light to a Q-Imaging MicroPublisher CCD color camera and has a 1x magnification. Its suggested to leave it in the 50%/50% position.

Fluorescence filter cube for far-red emitting fluorophores (e.g. Cy5, Alexa 633) is stored in the plastic tub on the shelf above the scope.
Clean install of the system (April 25, 2014) - All users must setup C-Imaging profiles again. See Michael for assistance or see here for online instructions.
Contents
---
The Leica microscope is a standard inverted microscope set up for transmitted light, differential interference contrast (DIC or Nomarski) and fluorescence microscopy. Images may be viewed by eye or viewed and saved to computer with either of 2 cameras. For transmitted light and very bright fluorescence imaging a chilled color camera is mounted on top of the trinocular and can be used to capture high resolution digital images. For dimly fluorescent samples or photometric quantification, a cooled B/W CCD camera (an HQ2) made by Photometrics is attached to the side port on the left of the microscope. DIC images may also be captured using either camera, although the color camera can capture with higher resolution. Darkfield is also available forthe 40x & 63x oil immersion objectives. The specific hardware attached to this microscopy is listed below.
The Microscope:

Leica inverted DMIRB microscope

Objectives:
Objectives
Mag.
NA
type
WD
Adjustable Collar
cover slip
Immersion
part no.
Objective Wollaston ***
Condenser Wollaston
5X *
0.11
Plan
~9 mm
-
#1.5
air
20
B1
10x *
0.3
Fluor
6 mm
-
#1.5
air
20
B1
20x
0.4
long
corr
0 - 2.0 mm
air
20
C or D
40x
0.55
long
corr
0 - 2.0 mm
air
40
C or D
40x **
1.0 to 0.5
Plan Fluor
240 um
aperture
#1.5
oil
40
C or D
100x **
1.4 to 0.7
PlanApo
90 um
aperture
#1.5
oil
100
C or D
Use only Leica immersion oil with oil immersion objectives
* These objectives prefer a number #1.5 (~170 um thick) glass cover slip.
** Suitable only for imaging though cover slips due to small working distance
*** When not using DIC, the objective Wollaston should be in the blank (H) position
corr - cover slip adjustment should be set for maximum clarity with fine high contrast objects or set the dot on the dial on objective to the corresponding objective thickness. e.g. for #1.5 (170um) cover slips dot should be at 0.2 (you'll have to interpolate), or e.g. standard culture dishes (1.0 mm thickness) set dot to 1.0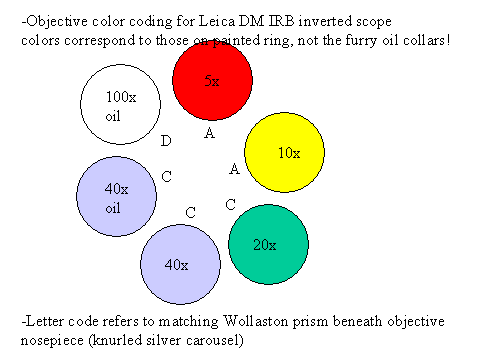 Condenser:

Type S1 0.9 NA 2 mm working distance (small conical nose lens, screw on/off)
Type S23 0.5 NA 23 mm working distance (large cylindrical nose lens, screw on/off)
Type S70 0.? NA 70 mm working distance (unscrew nose lens from bottom of S23)
Changing between S1, S23 & S70 requires a 3 mm hex wrench so unlock the condensor assemble and slide the top to match the S number on the stem of the microscope. Please keep a hand under the condensor when you do this in order to prevent the assembly falling onto the objective.

Differential Interference Contrast (Nomarski) is available for some of the objectives
Illumination:

Transmitted light - 100 Watt Halogen (Tungsten filament) lamp with neutral density filters and a color temperature correction filter
Fluorescence - 100 watt Mercury arc lamp (HBO)

Dichroic Filters for Fluorescence -

Dapi (31000, Chroma) ex=360/40 di=400lp em=460/50
Texas Red (31004, Chroma) ex=560/40 di=595lp em=630/60
Fitc (41001, Chroma) ex=480/40 di=505lp em=535/50
Cy5 (41008, Chroma) ex=620/60 di=660lp em=700/75
GFP (31019, Chroma) ex=425/40 di=460lp em=505/40 (important:- this filter is not suitable for the more common eGFP)
eGFP Narrow Band (31026, Chroma) ex=480/20 di=505lp em=520/20 (good for minimizing autofluorescence)
Triple Dichroic combined Dapi, FITC, Texas Red (61002 Chroma) (note that this filter set can have high cross talk between the fluorescent channels)

Note 1: The GFP cubes are usually in the plastic tube on the shelf above the microscope
Note 2: The numbered positions of the cubes in the carrousel are sometime changed
Fluorescent proteins spectra - Clontech
Comparison of the Cameras attached to the Leica Inverted Microscope
Camera
Comparison

Monochrome

Color

Camera
HQ2
OrcaER
MicroPublisher 3.3

(sometimes 5.0)

Manufacturer
Photometrics
Hamamatsu
Q-Imaging
Optimized for:
Dim fluorescence &/or quantification of fluorescence intensity. B/W transmitted light imaging
Dim fluorescence &/or quantification of fluorescence intensity. B/W transmitted light imaging
High resolution transmitted & bright fluorescence
Location on microscope
On left side port
On left side port
On top if trinocular
Light transmission from microscope
100%
100%
100% or 50%
Computer to use
\\Lister (computer on the right)
\\Lister (computer on the right)
\\Snell (computer on the left)
Resolution
Better than presented by 0.63x coupler
Better than presented by 0.63x coupler
Better matched to image presented by microscope
Preview
Computer monitor (C-Imaging)
Computer monitor (C-Imaging)
Computer monitor (C-Imaging or Q-Capture)
Max..field of view size
1300 by 1024 pixels
1300 by 1024 pixels
2048 by 1542 pixels
Min. field of view size
Sub region of interest supported
512 by 385 pixels
Intensity depth
8 or 12 bit B/W
8 or 12 bit B/W
8 or 10 bit each RGB channels (24 or 30 bit total)
Color balance
not applicable
not applicable
Good after performing auto-balance
Sensitivity
good
good
mediocre
Far capability
good
good
none
Quantification of intensity
excellent
excellent
mediocre
Acquisition software
C-Imaging
C-Imaging
C-Imaging or Q-Capture or ImageJ
Cooled
yes
yes
no
Interface
Firewire 1394
Firewire 1394
Firewire 1394
Power up
Any time, before C-Imaging is run
Any time, before C-Imaging is run
Can connect/disconnect with power on
Power source
External Power brick (switched)/
External Power supply
Firewire cable
Generic PC

Computer name is \\Lister (\\lister.med.unc.edu) is under the cart on the right side

The computer is under the cart on the right side

Other computer name is \\Snell fresnel.med.unc.edu
Pentium 4, 2.0 GHz, 512 MByte RAM
24x CD-RW

Network

Name is \\Snell on the MHmicroscopy domain
Shared directory on the Windows network is users or users1

or users2

and is accessible directly from Windows

Can put \\Snell\users2 in the address box of windows explorer or MyComputer in order to browse the directory. Enter your facility username as mhmicroscopy\username
If you are browsing from Internet Explorer inside UNC try clicking \\Snell\users1

This computer is a member of the MHMICROSCOPY domain
The MHMICROSCOPY file server is accessible from this workstations (Snell) computer. Many users' directories are at \\minsky\users2. This shared directory can be mapped to the M: drive on your log in.
Each user requires a username and password on the MHMICROSCOPY domain in order to log on and access the network shares

Software:

C-Imaging - runs either camera
Q-Capture - runs cooled CCD color camera only (Micro Publisher, by Q-Imaging)
ImageJ - runs the cooled CCD color camera (don't run at the same time as Q-Capture)
WinZip - For compressing files and directories into zip files
LViewPro - small and quick image viewer for 8 bit b/w and rgb images
---
Powering up

If fluorescence is required switch on Mercury Lamp if it is not already on (green switch on external power supply). Do not turn the lamp on unless the lamp housing is cool. (Mercury lamps must be have cooled for at least 30 minutes before igniting)
Switch on incandescent lamp for transmitted or DIC (switch is on left side in front of lamp voltage wheel (1) )
Switch on Hamamatsu camera control box.
Switch on computer, if it is not already running.

Set up optics on the Leica Inverted

For transmitted light (Kohler Illumination) - if transmitted not required then go to fluorescence setup

Open field aperture (2)
Swing in neutral density filters (3)
Minimize condenser aperture (4)
Set condenser turret ring to H (brightfield) (5)
Lower objectives with coarse focus knob (6)
Select no Wollaston prism - "H" position on wheel below objective turret (7)
Choose required objective. (Generally choose a lower power dry objective, locate sample and region of interest and then move to a higher power dry or immersion objective )
Pull out analyzer slider on left side of scope (8)
Close B/W camera port by pushing in rod on right hand side of microscope (9)
Close color camera port by pushing in rod on left side of the trinocular head (10)
Set correction collars on eyepieces to just expose silver ring (11). This makes viewing more comfortable for normal eyes and helps keep parfocality with cameras
Ensure incandescent lamp power is at about 10 - check power wheel by rotating away until light can be seen spilling onto condenser (12)
Place sample on stage cover slip down - (This is an inverted microscope!)
Focus onto sample
Close field iris (2) until you see a ring. Focus the image of the ring with the condenser focus knob (5), and center it with the 2 knurled screws at 45 degrees.
Open field aperture (2) to just fill the field of view seen through the eye pieces
Open condenser aperture (4) to desired contrast. Remember maximum resolution is obtained with a fully open aperture, which also gives minimum depth of focus & contrast and maximum illumination intensity.
These steps have set up Kohler Illumination!
Switch to higher power objective if desired

For Nomarski (DIC) - if desired

Open condenser aperture (4) maximally
Ensure both Wollaston prisms are not in the light path (5) and (7)
Push in analyser
Adjust upper polariser for maximum darkness
Select condenser Wollaston which matches objective being used (5)
Select Wollaston below object (7) which matches objective power used (see table on front of scope body)
Adjust Wollaston (7) prism shear for a uniform brick gray kind of color by slightly moving the Wollaston wheel

For fluorescence (* denotes steps also described in transmitted light setup)

* Lower objectives
Pull out analyzer slider on left side of scope (8)
Select no Wollaston prism - "H" position on wheel below objective turret (7)
* Choose required objective. (Generally choose a lower power, locate sample and region of interest and then move to a higher power)
* Close B/W camera port by pushing in rod on right hand side of microscope
* Close color camera port by pushing in rod on right side of microscope and pulling out left side of the trinocular head
* Set correction collars on eyepieces to just expose silver ring. This makes viewing more comfortable for normal eyes and helps keep parfocality with cameras
Ensure incandescent lamp is off at the switch on the front left of the scope
* Place sample on stage cover slip down - (This is an inverted microscope!)
Choose filter set using turret just above the left side camera port

1=none 2=fitc 3=tritc/texas red 4=dapi

Open light path from mercury lamp by pulling rod on back left of scope out. 1st position out includes an IR filter (don't use) and all the way out removes the IR filter.
Focus on sample
Switch to higher power objective if desired
---

Acquiring Images Using SimplePCI <--- please click on this link
---

Acquiring Images Using the Q-Imaging Software with the MicroPublisher Color Camera

Log on the computer

enter username (and press tab to move to-)
enter password
choose domain MHMICROSCOPY (not local computer Snell)

Choose QCapture N.B. clicking on these links should open a view in another window. This window may be hidden behind other windows on your computer.

In the tools window choose bin 1
display live image
white balance
select 8 bit mode, which is generally adequate and makes viewing image file easier
auto expose (due to a software bug always do auto expose with a bin of 1, then switch to another bin size as desired)
choose resolution (i.e. bin size: 1=2048*1536 2=1024*768 3=768*512 4=512*384)
snap image
save image
repeat ad lib.

Shutdown

Turn off cooler by unchecking box in tools window or unplug Firewire connector to camera
Log off
Lower objective
Clean up oil on all objectives used with immersion oil
Power down arc lamp if no one else will be using fluorescence
---

Copyright 2001-2014 Dr. M. Chua, Program in Molecular Biology & Biotechnology, School of Medicine, University of North Carolina, Chapel Hill, NC 27599

Go Back
Booking Resources

Questions/comments/problems:

Michael Chua

---
| | |
| --- | --- |
| | Last Updated: 2014-05-14 |
---